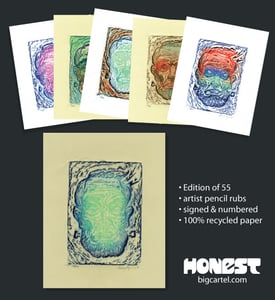 $

15.55
Limited Edition (of 55) Pencil rubs of block carving.
• This is for an individual Pencil rubbing (if you are wanting to inquire about purchasing the lot please email me for wholesale price, will depend on availability)
• Each pencil rubbing is on 100% recycled paper (white or creme)
heavy weight card stock. 8.5 x 11
• Mixed Media on each one is different varying by color pencil, marker,
charcoal, and wax color sticks (each design is different in the series)
• only a few remain in the series and will never again be produced or
be available.
• Pencil Rubs will be mailed Flat