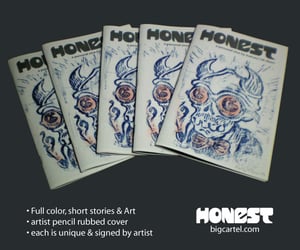 $

9.00
Finally up for sale to everyone is my first zine, Honest. this is a personal zine of writing's, ramblings, illustrations exclusive to the zine and a hand rubbed lino cover. this was a pet project that i really enjoyed doing and hope you all enjoy.
16pg full color zine
limited to 200
hand rubbed cover (cover will vary in color and detail)
signed by me
each will be shipped ground, free in the US.
the zine will be sent flat.
I would like to make these cheaper, but i am at near cost of producing and shipping. Thank you so much for your interest.
Anthony